Let no one despise your youth, but be an example to the believers  

in word, in conduct, in love, in spirit, in faith, in purity.

(1 TIM 4:12)
SMSJ High school youth Fellowship is comprised of high school youth who are passionate about serving God. We strive to achieve three things through our gatherings: Fellowship, Discipleship, and Service.
Fellowship is for the relationship we share with one another, in which we have our love and longing for Jesus Christ in common.
Discipleship is because we choose to follow Jesus' teachings, just like His twelve disciples, in hopes that we can reflect Christ in everything we do.
Service is because, with a cheerful heart, we want to go out and do God's work, just as Christ sent out his disciples to serve all nations.
For Details, Please Click

HERE
This service is temporarily unavailable
This service is temporarily online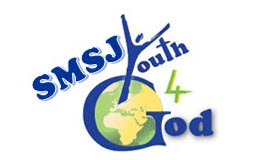 The Youth for God meeting is held every Saturday for High School Gr.9-12 youth mainly and University/College youth as well. This meeting addresses most controversial topics for youth based on submitting random questions every month anonymously, scheduling them to address one by one every week, and answering them through specialized speakers referencing the Holy Bible and church fathers' teachings.